Medicare, Social Security and the budget
On July 11, I posted a note on 10 year budget deficit projections prepared by Richard Kogan of the Center for Budget and Public Priorities (CBPP), here: "Upcoming Federal Budget Deficits". Kogan and Robert Greenstein of the CBPP have a more recent short report on the federal budget, here: "SANITIZING THE GRIM NEWS: The Administration's Efforts to Make Harmful Deficits Appear Benign". This new report contains a figure, taken from the Office of Management and Budget (OMB) February budget documents, projecting deficits out to 2050: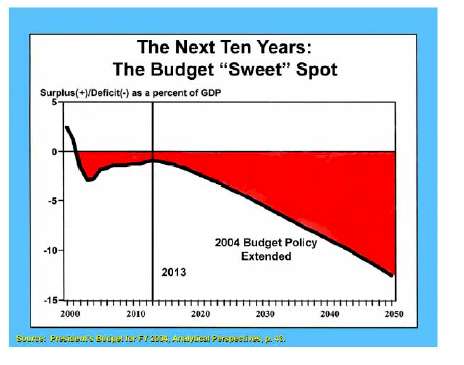 Any projections over this period have to be taken with a grain of salt. Nevertheless, the diagram is suggestive, and sobering. The most important reasons for these large deficit projections are large projected increases in Medicare and Social Security. These are due to an aging population, and increases in the cost of medical care.
A July 17 Wall Street Journal column by Jagadeesh Gokhale and Kent Smetters, available at the American Enterprise Institute, here: "How to Balance a $43 Trillion Checkbook", sheds some light on the sources of the deficits. The column itself is apparently based on a short new book by Gokhale and Smetters, available as a pdf file, here: Fiscal and Generational Imbalances. New Budget Measures for New Budget Priorities. The article argues for a new approach to federal budgeting. In the course of the argument, Gokhale and Smetters provide estimates of the present values of Medicare and social security fiscal imbalances. These are large numbers:
"Medicare now faces an imbalance exceeding $36 trillion--yes, trillion. That is the amount of money in present value that Medicare is projected to pay out for future benefits in excess of the money in its trust fund, plus the money it is projected to collect in future taxes and premiums. Social Security's imbalance exceeds $7 trillion. Both of these imbalances dwarf the $3.5 trillion that the government officially reports as its current level of debt held by the public."
In another source (described below) Gokhale and Smetters estimate the fiscal imbalance for the rest of the federal government:
"By contrast, the rest of federal government's FI amounts to only $0.5 trillion, which is comprised of a surplus of prospective revenues over outlays of $4.6 trillion as well as liabilities to Social Security, Medicare, and the debt held by the public of $5.1 trillion."
So, the deficit problem out beyond 10 years is overwhelmingly due to Medicare and Social Security imbalances.
The Gokhale and Smetters study is based on work the authors began for Treasury Secretary O'Neill last year. It was briefly controversial in May. I posted on it then, here: "Treasury Tax Study"
As I worked on this this evening a black bear walked up to the window I'm facing (two feet or so away), stared inside for a verrrry long moment, and then walked back into the woods.