Upcoming Federal Budget Deficits
Richard Kogan of the Center on Budget and Policy Priorities (CBPP) has a short report projecting federal budget deficits for the next ten years (here: "$300 Billion Deficits, As Far As The Eye Can See".). Kogan summarizes his results in this figure: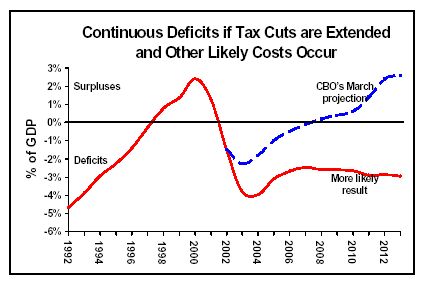 Kogan starts with March Congressional Budget Office (CBO) budget projections (summarized in the blue line) and then adds in: (a) items that the CBO is prevented by law from considering, and (2) the likely impacts of events since March. The "add ins" include:



"Tax extenders" in current law. These are elements of existing tax law (as of March) with bipartisan support that Congress has shown a tendency to extend routinely in the past. Kogan assumes these will be extended routinely over the next 10 years.


Bush tax cuts Kogan assumes that all the elements of the 2001 tax cut, and of this year's tax cut that are set to expire sometime in the next ten years, will be extended through the period.


The Alternative Minimum Tax (AMT) will be dealt with The AMT is a set of special tax law provisions that exists to prevent very rich taxpayers from paying nothing. The AMT is not indexed for inflation and so increasing numbers of taxpayers are becoming subject to it. Numbers are expected to increase from 2.5 million this year to 41 million by 2013 (the end of the 10 year projection period). Kogan assumes this will be reformed.


National security Kogan draws on a recent study by the Center for Strategic and Budgetary assessments concluding that administration budget projections for defense and the war on terrorism are low by $670 million through 2013. He adjusts for this. He also notes that the CBO projections don't include funding for the occupations of Iraq and Afghanistan after this year. He adjusts for this.


Medicare prescription drugs The CBO projections don't include the cost of the Medicare prescription drug benefit Congress is about to provide.


Natural disasters CBO projections "implicitly" assume no natural disasters over the next 10 years. This is unlikely. Kogan adds an estimate, apparently based on recent history.


Domestic appropriations CBO assumes that discretionary spending will grow at the rate of inflation. In recent years discretionary spending has grown faster. Kogan projects a growth that will keep up with inflation and population growth - so as to maintain its current per capita level.


Refer to the report itself for additional background, and for the amounts each of these items contribute to the deficit. It's short and readable.