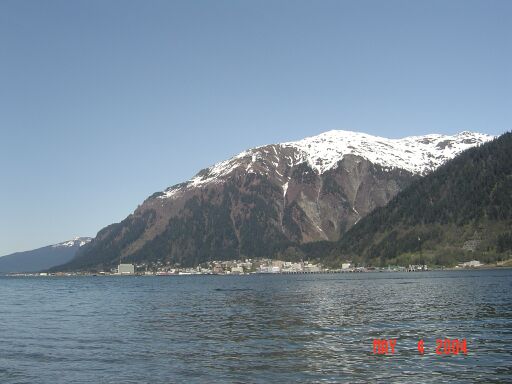 That's downtown Juneau in front of you (capital of the nothernmost, westernmost, and easternmost of the United States) lying along the shore at the foot of Mts. Juneau and Roberts.
You can't drive to Juneau, the road runs only five miles to the south and only about 40 miles to the north. We're cut off by the sea, mountains and glaciers and ice fields. You can only fly in, or come in by boat.
The harbor in front of you is busy in the summer. Juneau is a popular cruise ship destination, and the first cruise ship of the year will come in tomorrow. All summer long there will be a steady stream of large cruise ships, Coast Guard cutters or buoy tenders, gillnetters, seiners, longliners, a Navy ship on the 4th of July, kayaks, tenders to and from the cruise ships, the occasional fabulously luxurious yacht, tugs with container barges, and lots of recreational sail and motor boats.
About 30,000 people live here. I work in the Federal Building, the large building, separated from the others, on your left in the picture.
If you'd like to check the docks to see if there's a cruise ship in, use this web cam. Here is a web cam that will give you a close up of the downtown. These two web cams are on the library, and face in opposite directions.
Revised 5-5-04