U.S. and European work effort
The New York Times recently carried an article by Mark Landler on hours worked by Europeans: "Europe Ponders the Meaning of Life". Europeans work less than people in the U.S. Landler locates the cause in cultural differences:
"...For Europeans, a proper balance between work and play is more than a fringe benefit of prosperity. It is central to a way of life that most people here, whether they confess it or not, believe is superior to the American one: less harried, less materialistic, less dehumanizing.

With more free time, the thinking here goes, Europeans can better nurture their families, contribute to their communities and cultivate their minds. Americans, caught in the frantic pursuit of success, and the McMansions and S.U.V.'s that come with it, don't have time for such a rich life..."
It's hard for me to judge what Europeans think from up here in Alaska, but offhand this doesn't strike me as a very insightful analysis. I think he may be picking up things some people are saying over there, but I'm not sure he's actually put his finger on the reason why working hours are currently different.
This paper by Edward Prescott notes that Europeans in certain countries used to work longer hours than we did, and argues that the change in hours worked was due to changes in marginal rates of taxation ("Why Do Americans Work So Much More Than Europeans"):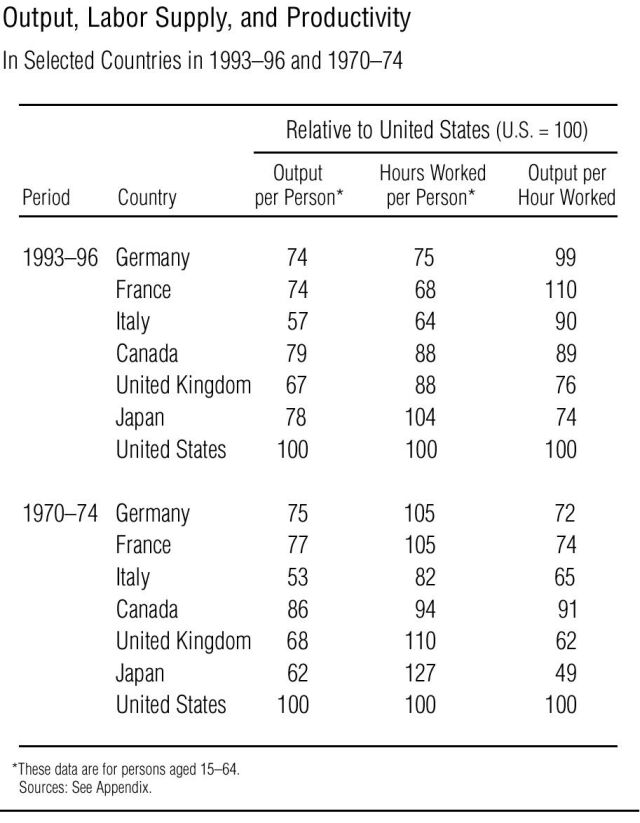 "Table 1 reports the G-7 countries' output,labor supply,and productivity statistics relative to the United States for 1993–96 and 1970–74. The important observation for the 1993–96 period is that labor supply (hours per person) is much higher in Japan and the United States than it is in Germany, France, and Italy. Canada and the United Kingdom are in the intermediate range. Another observation is that U.S. output per person is about 40 percent higher than in the European countries, with most of the differences in output accounted for by differences in hours worked per person and not by differences in productivity,that is,in output per hour worked. Indeed, the OECD statistics indicate that French productivity is 10 percent higher than U.S.productivity.In Japan,the output per person difference is accounted for by lower productivity and not by lower labor supply.

Table 1 shows a very different picture in the 1970–74 period. The difference is not in output per person. Then, European output per person was about 70 percent of the
U.S.level, as it was in 1993–96 and is today. However, the reason for the lower output in Europe is not fewer market hours worked,as is the case in the 1993–96
period,but rather lower output per hour. In 1970–74, Europeans worked more than Americans. The exception is Italy. What caused these changes in labor supply?"
What caused these changes in labor supply? Prescott's statistical analysis suggests that it was changes in relative marginal tax rates:
"...In this article, I determine the importance of tax rates in accounting for these differences in labor supply for the major advanced industrial countries and find that tax rates alone account for most of them...

The important observation is that the low labor supplies in Germany, France, and Italy are due to high tax rates. If someone in these countries works more and produces 100 additional euros of output, that individual gets to consume only 40 euros of additional consumption and pays directly or indirectly 60 euros in taxes...

An important observation is that when European and U.S. tax rates were comparable, European and U.S. labor supplies were comparable. At the aggregate level, where idiosyncratic factors are averaged out, people are remarkably similar across countries. This is true not only for the G-7 countries, but for Chile and Mexico as
shown by Bergoeing et al.(2002) and for Argentina as shown by Kydland and Zarazaga (2002)...

I am surprised that virtually all the large differences between the U.S. labor supply and those of Germany and France are due to differences in tax systems. I expected institutional constraints on the operation of labor markets and the nature of the unemployment benefit system to be of major importance. They do appear to be
important in Italy in the 1970 –74 period."
On June 10 I posted on a post by Kash over at Angry Bear:
"Do you use your productivity for consumption or for leisure? And why?"
. The labor hour estimates above exclude untaxed labor, so don't pick up the underground sectors in the different countries. One of the people commenting on my earlier post, ivan, suggested that tax incentives may be prompting Europeans to spend relatively more time in the underground economy.
Arnold Kling posts on the care that needs to be taken in interpreting the European and U.S. productivity measures, here: "European Productivity"