Anti-dumping by Developing Countries
The use of anti-dumping laws to restrict imports is increasing, and the increase is taking place in developing countries rather than developed countries.
The following WTO data comes from a recent report by the Swedish National Board of Trade ("The Use of Antidumping in Brazil, China, India and South Africa - Rules, Trends and Causes"):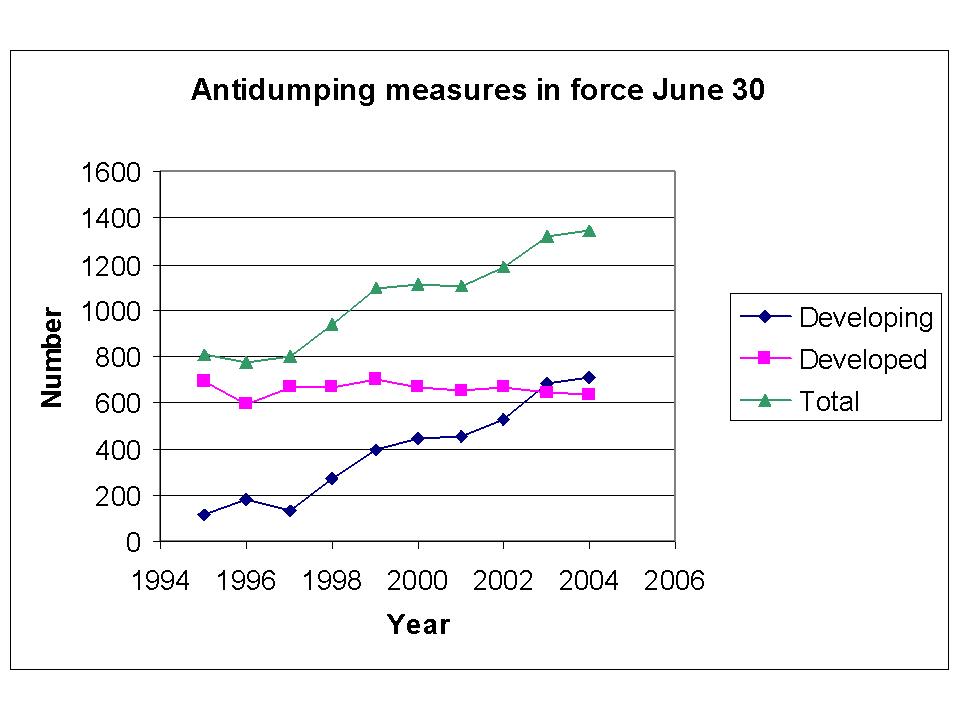 The authors caution that the "measures in force" data "must be read with caution as the reporting of antidumping measures in force is given by individual countries and vary in quality."
When goods are sold in a foreign country for less than they are sold at home, the goods are said to be dumped.
Anti-dumping laws attempt to identify dumping that harms domestic industries that compete with the imported goods, and to offset it with tariffs on the "dumped" goods.
There are all sorts of tricks that can be played in measuring and comparing foreign and domestic prices. Anti-dumping is easily abused, and is often exploited by domestic industries that want to reduce competition from imports.
The trade agreements underlying the WTO regime provide a set of rules to regulate member nation anti-dumping laws, and to limit abuse. These rules could be reformed to help prevent a wider range of abuses. The WTO's anti-dumping rules are on the table now, as part of the Doha Round of negotiations. The U.S. is not an advocate of refrom.
But maybe it should be. Other countries can use anti-dumping measures to restict import competition as well as we can. In fact, as shown above, the use of anti-dumping measures has been growing in potential markets in recent years.
Among the Swedish Board of Trade report's findings:
"Since 1995 there is a general upward trend in both initiations and in the number of anti-dumping measures in force by developing countries. Of the four countries examined in this paper - Brazil, China, India and South Africa - India and China are among the new users of antidumping. Brazil and South Africa, on the other hand, have for a long time been traditional users. India is the largest user in relation to its imports.
The four countries examined targets developing countries to a lesser extent than industrialised countries do.
For all four countries rapid tariff reductions and increased market access during the 1990's partly explain the increasing anti-dumping usage. In China and India an increase in imports might also explain the increased use of antidumping.
In India and South Africa especially, firms that have enjoyed a monopoly-like situation in their home markets prior to liberalisation have applied for antidumping protection post-liberalisation. In India antidumping petitions are often made by a one single domestic producer with a market share of above 90%.
The retaliation motive could also explain the use by these countries of antidumping, since these countries, especially China, are also frequent targets of antidumping investigations.
The EU is second only to China as the most frequent target of antidumping measures. As developing countries are increasing their imports from the EU they are also increasing their use of the antidumping instrument. There is thus a risk that the use of antidumping will affect European exports negatively.
Within the context of the Doha Round it is likely that the countries that consider themselves to be primarily targets of antidumping rather than users, among them Brazil and China, could agree to stricter rules.
The continued use of the antidumping instrument by industrialised countries undermines the good faith negotiations on special and differential treatment."
The information about the Swedish Board of Trade study via
Trade and Law Centre for Southern Africa